We are held hostage by our daily routine in the fast-paced lives of the twenty-first century: getting up in the morning, rushing to work, working for eight to nine hours, and returning home. Later, we have no energy for productive work, and this never-ending cycle continues, leaving us feeling stuck in a rut.
According to Arogyadham Retreat, the actual benefits of a yoga retreat in Rishikesh become apparent when you have a specific reason for attending one. If you are looking for a warm-weather vacation where you can do yoga every morning, eat delicious food, and spend the rest of the day relaxing by the pool with a glass of vino in the evening, 
However, the benefits of that retreat will differ from what you'd get out of a silent retreat with no technology and a specific detoxifying diet. Reaching the full benefits of a yoga retreat can be at a different end of the spectrum. The most critical factor in determining how to make the most of a yoga retreat is to match your goals with the type of retreat you sign up for.
Some yoga retreats combine yoga with a different sport, such as surfing, horseback riding, hiking, sailing, and so much more! Some combine creative activities like writing or journaling, painting, sculpture, and even boat building! The emphasis here is not primarily on yoga, though yogic philosophy can apply to any activity. That one-pointed focus, ekagrata, that unwavering attention to one specific matter, can often be found through walking or arty meditation, such as writing or creating. These are all beautiful ways to recharge your batteries, get away from your daily routine, and let others take care of your needs for a few days.
Since the start of the COVID-19 pandemic, the redundancy of life has shrunk even further. On the other hand, it is trapping us in our homes and erasing the distinction between work and home because they are now the same. It's difficult not to become frustrated and wish for a change.
Arogyadham Retreat helps people with some consequences of the new usual way of life:
Impaired Cognitive Functioning

Diminished concentration and attention

Addiction

Depression

Disorders of lifestyle
A yoga retreat is a resolution and a way out of this never-ending cycle. It will provide you with the ideal environment to relax and rejuvenate through various holistic means, such as yoga and naturopathy, allowing you to rediscover life's beauty.
Moreover, a yoga retreat is a well-rounded and holistic experience that allows people to achieve transformational healing through tried, tested, and successful routines. It is a destination where one can be close to nature, interact with like-minded people, and return to a healthier lifestyle with a new perspective.
Benefits Of A Yoga Retreat
With this wide range of knowledge and personal experience, Arogyadham Retreat has put together a list of the top benefits of going on a yoga retreat, even for people who don't think of themselves as yogis or go on yoga retreats.
Make contact with nature.
Many yoga retreats take place in stunning natural settings all over the world. What better way to get out of city life's hustle and bustle than a yoga retreat? You'll be able to relate with nature on a deeper level, engaging yourself in it and taking advantage of it in ways you wouldn't otherwise.
Remove yourself from technology.
Only some retreats are digital detox, but it can be if you want it to be. Going on a retreat vacation is a great way to disconnect from technology and reconnect with nature. So many jobs now require us to be available and connected 24 hours a day, seven days a week. Even if they don't, we can end up wasting much of our free time on social media and staring at screens. Go on a yoga retreat to be present and away from digital distractions!
Examine your current situation.
If you are stressed by your current situation, attending a yoga retreat can assist you in taking a step back and assessing your location from a distance. When we are too near a problem, making decisions can be challenging. Going on a retreat can provide you with the benefit of space and allow you to reevaluate your situation
A taste of living life with meaning
When you're on a retreat, every day has a purpose. You're concentrating on your practice while relaxing or engaging in optional activities. But, of course, your health and well-being take center stage. Every day, you can achieve what you set out to do and get a taste of living your life with a sense of purpose.
Spend more time with teachers.
One of the most valuable benefits of attending a yoga retreat is having access to inspiring yoga teachers for more than just a class. You can take advantage of any one-on-one time. They help you with your practice, and you can talk to them about yoga and wellness in general throughout the retreat.
Stop overthinking.
If you find it difficult to silence your mind and are always thinking about the next thing you need to do, a yoga retreat is a great way to stop overthinking it. Use a yoga retreat to silence your inner critic and open yourself up to a more positive way of thinking. Meditation programs often include retreats, and your teacher can tell you how to control your thoughts.
Surround yourself with good vibes.
A vacation full of positive energy is one of the best benefits of attending a yoga retreat! You will surround yourself with positive thoughts and feelings while on retreat. There is no condition to be concerned about vacation stress; embrace the positive vibes coming your way.
Find some comfort.
Yoga retreats can be helpful to both your mental and physical health. Going on a retreat can transform your life and assist you in dealing with any emotional or mental issues you may be experiencing. It can also be beneficial to your body if you are injured.
Commit to eating healthily.
The food you eat on retreat is carefully selected for your health and well-being. Going on a retreat allows you to eat well without worrying about it, and it's a wellness habit you can carry with you.
Discover a new point of view.
Attending a yoga retreat can give you new perspectives on your own life or a different culture. You never know what you can learn from others that will influence your future decisions or make you see your situation differently.
Make new connections and friends.
In addition to de-stressing, detoxing, reflecting, connecting with nature, and deepening our yoga and meditation practices, we hope you will have fun, meet like-minded people, and possibly make new friends! Friendships are often formed more efficiently and meaningfully during a yoga retreat because vulnerabilities are shared, and we have each opened up and reconnected with our inner selves and desires. We are grateful for the many new friendships formed during our Body Flows Yoga Retreats.
Take some time for yourself.
We give so much of ourselves in our daily lives that it can be questioning to take time for ourselves. You can meet some fantastic people on retreat, but you can also use it to be alone. Wellness travel is about taking time for yourself and is a great reason to attend a retreat!
Enhance your health
A yoga retreat has the added benefit of being a health-enhancing vacation. However, it would help if you left a retreat feeling healthier in both your body and mind, exercising and relaxing your mind.
Learn how to meditate.
Yoga's traditional benefit is to instill the mind, and going on a retreat will allow you to focus on this more deeply. Instead of returning from a class, you can carry that calmness with you throughout the rest of the day. In addition, a yoga retreat will give you a location where you can meditate without being interrupted.
The Final Word
So, wherever you go, and with whomever you go, enjoy your time at your chosen yoga retreat-enjoy the journey, the discovery, and the broadening of your experiences. Arogyadham Retreat offers a yoga and wellness retreat that is considered one of the best meditation retreats available. The location provides a one-of-a-kind opportunity to ensure overall wellness and improve mental health. Enjoy your time at the Arogyadham Retreat, however.
Above all, remember to stay positive and have fun.
Contact Us
If you're on a barrier about attending a yoga and meditation retreat in Rishikesh for your health and happiness, consider what is more beneficial. Check out our yoga retreats and get on your way to becoming a better version of yourself!
Call us at: +91-9897784716

Or Can also mail us on: info@arogyadhamretreat.com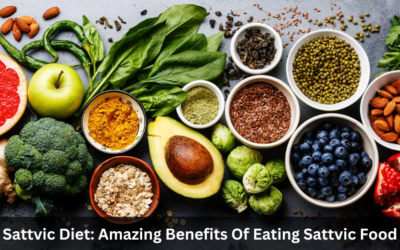 In the realm of Ayurveda, the Sattvic diet holds a significant place as a way to nourish both the...